Christian started his Ristorante for the love he has for exquisite fine dining, his passion for cooking, and the fun of entertaining.
It all started by inviting some of Chris' guests over for dinner after long hours at work in the sales force at a well known Brand resort on the Island.
After dining, these guests would encourage Chris to open his doors to the public, giving everyone the opportunity to taste his delicious recipes.
"Anna-Maria's Autentico Ristorante Italiano" open it's door in October of 2009.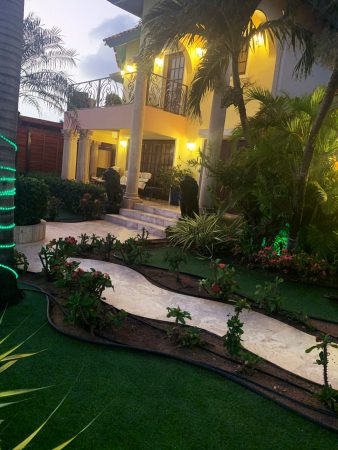 Christian Joseph Saponara was born in Aruba, son of a Peruvian mother being the second generation of Italian descent from Messina, Sicilia; Napoli and Genova.
Chris is a culinary creator, innovator and an architect, with his heart belonging to his very own Ristorante, where he's truly a culinary magician.
His cuisine is Southern Italian, with a distinctive menu of known recipes, in addition to many of his creations not found anywhere else; these have become well like by all of Chris' guests.
At "Anna-Maria's Autentico Ristorante Italiano" all the meals are prepared fresh to order, with only fresh ingredients imported from various parts of the world, and also by utilizing some locally grown produce. Every component of every recipe is hand-chosen by Chris, indeed making his offerings particularly unique among today's eateries. He has set a standard that few restaurants around the world can match.
Chris, together with his staff members , welcome you and will make you and your loved ones feel like your visiting a friend for dinner at his home. He will offer you a relaxed, 'no rush' ambiance, with the very best cuisine that will make you think you were dinning in Southern Italy.